Webinar for Healthcare Professionals: Nutrition and Hydration in the Hospice Patient
Wednesday, August 19
12:00 PM Eastern Daylight Time
This webinar educates clinicians on the ethics and implications of artificial nutrition and hydration for patients near the end of life.
Participants will:
Identify the benefits and burdens of parenteral hydration in patients with advanced illness, including those associated with tube feeding in patients with advanced dementia
Explore common questions about the indications and contraindications for artificial nutrition and hydration, the value of goals-of-care conversations, and the impact of tube feeding on patient survival
Earn one continuing education hour with this free webinar. To earn CE credit, attendees must view the webinar in its entirety, complete an online, post-event evaluation and download their own CE certificate. Participants must register and sign in to the live webinar using the same email address.
If you require an accommodation for a disability, please email us at webinars@vitas.com.
Featured VITAS Expert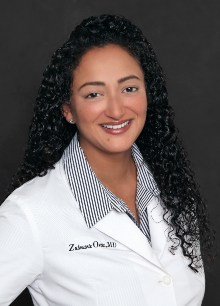 Zulmarie Ortiz, MD
Medical Director - Broward County, VITAS Healthcare
Zulmarie Ortiz, MD, is medical director of VITAS Healthcare in Broward County, Florida. She joined VITAS in 2017 after serving four years as Baptist Hospital of Miami's first inpatient palliative care physician.
She completed specialty training in hospice and palliative care in Tampa in 2012 at Moffitt Cancer Center, Tampa General Hospital and LifePath Hospice.
Dr. Ortiz graduated from New York Medical College and is an associate professor at Florida International University College of Medicine.
Nurses and Case Managers
This activity is approved for one continuing education credit hour for nurses (RN, LPN, LVN; in California Registered Nurses only), Social Workers and Certified Case Managers. Licensed Nursing Home Administrators in the states of Florida and Illinois may also receive one hour of continuing education credit. Attendance for the entire online webinar, as well as completion of a brief online evaluation, is required. Certifications are made available after completion.
Previous Webinars
Missed one of our webinars or looking for a refresher? You can review our previous educational presentations on a variety of hospice, palliative and end-of-life topics.
Go To Archive
Webinar FAQs